Top 10 Football Live Apps for the African Fan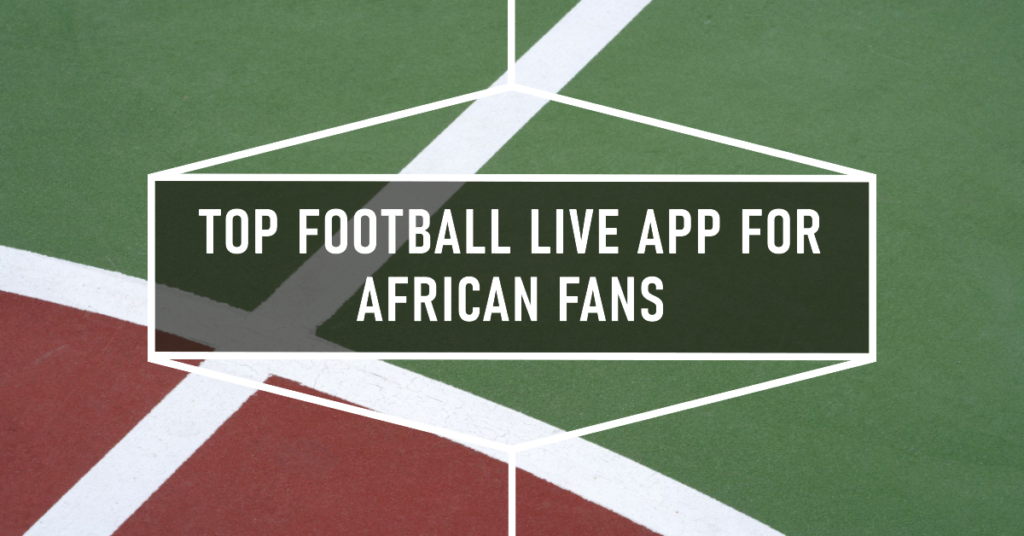 In this digital age, staying updated with your favorite football matches has never been easier, thanks to the multitude of football live apps available. African football enthusiasts, in particular, have a growing interest in keeping tabs on both local and international matches. Whether you're following the English Premier League, La Liga, or your local African leagues, there's an app for you. In this article, we'll explore the top football live apps tailored to the African fan's needs, ensuring you never miss a goal, red card, or thrilling moment on the pitch.
Introduction
Football is more than just a sport in Africa; it's a way of life. With the advent of smartphones, keeping up with your favorite teams, players, and scores has never been easier. Football live apps have revolutionized the way fans follow the game. In this article, we'll explore the best football live apps tailor-made for African fans.
Why Football Live Apps are Essential
Before we dive into the apps themselves, let's discuss why football live apps are indispensable for African enthusiasts.
Real-time Updates: Football live apps provide real-time updates on matches, goals, and events, ensuring you're always in the know.
Comprehensive Coverage: These apps cover a wide range of leagues, from the local African leagues to international tournaments like the FIFA World Cup.
Customization: Most apps allow you to personalize your experience, following specific teams and tournaments that matter most to you.
Now, let's explore the top football live apps that cater to the African football fan's needs.
Top Football Live Apps for African Fans
1. Goal Live Scores
Goal Live Scores is a must-have app for any African football fan. This app offers comprehensive coverage of football matches from around the world, including leagues and tournaments in Africa. Users can get real-time scores, live commentary, and breaking news related to their favorite teams and players. The user-friendly interface and push notifications make it easy to stay updated with the latest action on the pitch.
2. ESPN
ESPN, a global sports media giant, offers a dedicated app for African football fans. This app provides live scores, match highlights, and in-depth analysis of football games. It also includes exclusive content, such as interviews and behind-the-scenes footage, ensuring that users get a holistic football experience.
3. SuperSport
SuperSport is a leading sports broadcaster in Africa, and their app is a treasure trove for football enthusiasts. Users can stream live matches, access video highlights, and receive personalized content based on their favorite teams and players. SuperSport's app is a one-stop destination for all things football.
4. FlashScore
FlashScore is known for its lightning-fast updates on football scores and statistics. This app covers a wide range of African leagues and competitions, making it an ideal choice for fans who want to keep a close eye on local and regional matches. The app's detailed match statistics and live commentary enhance the football-watching experience.
5. Livescore.com
Livescore.com is a reliable source for real-time football scores and updates. African fans can use this app to track matches, view live scores, and access post-match statistics. The app's simplicity and accuracy have made it a favorite among football enthusiasts.
6. 365Scores
365Scores offers a customizable football experience for African fans. Users can personalize their feed to receive updates on their favorite teams, leagues, and players. The app also provides live text commentary and video highlights, ensuring that fans never miss a moment of the action.
7. Forza Football
Forza Football is more than just a live scores app; it's a community for football fans. Users can interact with fellow fans, participate in polls, and share their opinions on matches. The app's live match tracker and push notifications keep users engaged and informed.
8. Score 808
Score 808 is an emerging app that caters to the African football audience. It offers live scores, news, and match schedules. What sets Score 808 apart is its focus on providing content in multiple African languages, making it accessible to a wider audience.
9. BBC Sport
The BBC Sport app is a trusted source for football news and updates. African fans can rely on the BBC's extensive coverage of football events worldwide. The app also features video highlights, expert analysis, and interviews with players and coaches.
10. FotMob
FotMob is a fan-favorite app known for its detailed match statistics and live commentary. It covers a wide range of African leagues and competitions, allowing users to dive deep into the world of football. The app's user-friendly interface and live match notifications make it a top choice for African football enthusiasts.
In conclusion, African football fans are spoiled for choice when it comes to staying updated with live scores, match highlights, and football news. These top football live apps cater to their needs, providing a seamless and immersive football experience. Whether you're a die-hard supporter of a local team or a fan of international football, these apps will keep you engaged and informed throughout the season.
FAQs (Frequently Asked Questions)
1. Are these football live apps available for free?
Yes, most of these apps offer free versions with basic features, but some may have premium subscriptions for additional benefits.
2. Do these apps cover African leagues extensively?
Yes, these apps provide comprehensive coverage of African leagues and tournaments, in addition to global football events.
3. Can I watch live matches on these apps?
Some apps, like SuperSport and ESPN, offer live streaming of matches, while others provide live scores and updates.
4. Do these apps consume a lot of data while in use?
Data usage can vary, but most of these apps are optimized to minimize data consumption while delivering real-time updates.