XRP was up over 20% in 24 hours, what happened with Ripple ?
As the CoinCola exchange market shown, the price of XRP rushed to over 1.06 this morning, which was up 20% in 24 hours. Compared with its price before April, it rose from $0.55 to $1.06, with the token up roughly 100% since the start of April.
Even though XRP's market cap ranking is NO.4, its price is low for a long time. Its highest price was about $3.5, which happened in 2018. Since March 2018, the price of XRP was still less than one dollar. Now, XRP reached $1.06—its highest price in over three years.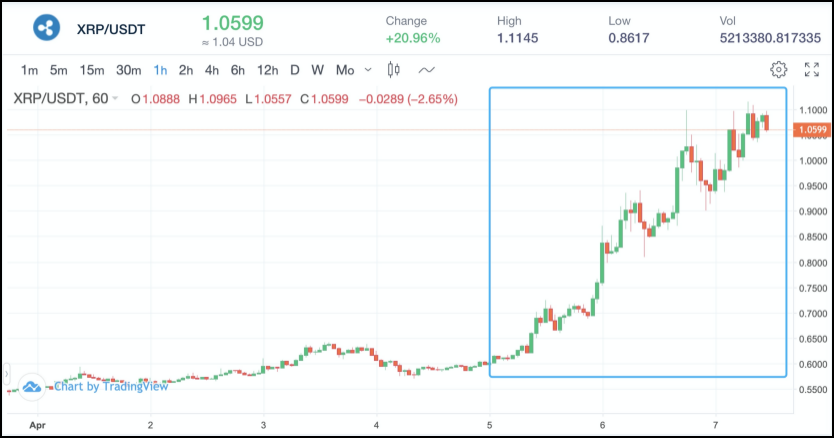 source:https://www.coincola.com/trading/xrp/usdt
What kind of force is driving XRP's price to increase?
According to Law360, Ripple Labs, the company of XRP, won a discovery motion from the U.S. Securities and Exchange Commission (SEC) on Tuesday.
In December, the SEC filed a lawsuit alleging Ripple Labs and two defendant executives, CEO Brad Garlinghouse and chairman Christian Larsen, raised more than $1.38 billion through unregistered security offering in the form of its XRP token.
Challenged the SEC's suit, Ripple Labs claimed that XRP was more like bitcoin or ethereum, which have been classified as commodities by the SEC. As a result, on March 15, Ripple Labs and its co-defendants filed a discovery motion that requires the SEC to produce documents related to its internal communications about Bitcoin and Ethereum.
Good news for Ripple, U.S. Magistrate Judge Sarah Netburn granted Ripple Lab's discovery motion, determining that the SEC must hand over its internal discussion on crypto assets.
Although Ripple Labs has not won this case yet, the issues have been thrown to SEC, which must explain to the Court how a digital currency transformed into digital security. Undeniably, this is a good thing for Ripple Labs and its XRP token.
Back to the price of XRP, it is still a challenge to keep on 1 dollar per coin. It depends on the proceedings of this lawsuit judgment.